Golf club – US / UK Website
Comparison: Groove vs. Grooveless

The grooveless irons are made from a special alloy that is bendable up to +/-12°. They are pure metal, just polished, satin or steel ball blasted (shot peening). No paint, no plastic! They are available in stainless and rusty. Also in different designs: blade, cavity, super cavity

Why grooves? Does your clubhead really need grooves?
Some say yes with the common declaration: because you need derivation of water and grass and leaves etc.; In this case, however, logical explanations are preferred instead of the actual physics.
The average contact time between the clubhead and the ball is only 5/10.000 seconds and the golfball on your wedge only "occupies" an area of two groove-lines on a length of less than one-half inch.
That means: the volume for draining any water / grass particles is minimal and not relevant because the time – within reaction – is too short.
The fact is that the pressure of the ball is always so high that both a film of water and organic waste or sludge is penetrated. The ball always has a direct contact to the face. A standard golf ball will even leave an imprint on the clubhead and is also good to see in the rain, when the impression of the ball will be completely dry for a short time after. You can almost see a  distinct ball wear on the face, by which one recognizes that the golfball slightly slips and then abruptly bites.
Should the pressure be too low, or even the grass too thick  the ball would not strike the surface at all and would not have clubface-contact what would grooves then may cause ? Answer is: Nothing at all, because they (grooves) do not contact the ball!
With a ball-to-metal contact, the ball grooves will move / accelerate the balll similar to a gear-wheel, with grooveless clubs this is done by the friction coefficient, similar to a car tire ( so-called slicks ), the more effective support, the better the drive.
Which is better, can not be answered generally.
Grooveless spin is neutral in all directions, that means also  with a closed or open club face, where the grooves are diagonal and do not move the ball in a neutral way.
Look, what Shawn Clement has to say about Grooveless
USGA comparison test, robot and reality
The USGA tests are made in the experimental setup, with these tests you will have different results, in any case not matching with field-testing in a natural environment.
The same is true for tests with the drive robot: When using the "Iron Byron", you have many adjustable parameters, but "his" swing is not human.
Tests with Trackman revealed depending on the player two possible outcomes: Grooveless has more spin than with grooves either or no difference could be measured (i.e. grooveless clubs  and clubs with grooves have identical values). All tests were always made under dry and wet conditions.
Market figures:
This is not another conspiracy theory, but you should know that since 2007, particularly, the big club manufacturers made lots of money by selling wedges
Source: http://www.bbc.co.uk/news/mobile/business-12959316
Who has some slight idea of what is going on, will agree with me that for example the cavity on a wedge has absolutely no significance. Bounce, sole shape and leading edge are too technical or even quite obvious for the golfer.
What remains is a mystery concerning the clubface and the new regulations that prohibit the old grooves and a rule forcing customers to buy new conforming wedges.
The manufacturers are – contrary to their statements – not unhappy as long as there is a discussion on grooves.
Players' Testimonials
The grooveless clubs have been sold now  for a couple of years, I admit they are expensive and everyone who plays them and does not improve his game, can return the clubs within four weeks from the date of purchase. We had a return of grooveless clubs of about only 0.2% and the production of each year is always sold out. I personally do not believe that a player would retain his grooveless clubs when he does not make any progress within a short time or sees any advantages for his game.
Most golfers report of more control and better feel for distances. All this may seem very subjective. Others are just freaks and love "being different" or the extravagant look.
Good golf is performed in your head  and what everyone makes, does not always have to be right.
Different grooveless models – irons, wedges, woods and driver

Grooveless irons are available from blade style till ultra deep cavity. Special steels stainless and rusty – it is up to you. Of course we made grooveless woods too.
---
Additional information about the shafts Shawn Clement tested in the video above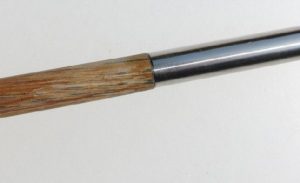 We call it Tri-Matrix shaft because it was built from graphite, stainless steel and genuine hickory wood. We make it for all kindes of golf clubs incl. woods, irons, wedges andf putters. They are exactly like steel shafts and easy like graphite. Ball flight is lower, flexes available from supersoft till extra strong.
Additional we have shafts made with bamboo and of course pure graphite. Also steel shafts up to 180 gr shaft weight – very unique.
Any questions?
We deliver worldwide and we are full fitter, so you can get what you want. Feel free to contact us:
Available Golf Clubs
"Grooveless Iron" is a complete product range of finest golf clubs – designed for any skill of play. All with smooth face, fully bendable and super soft impact.
Blade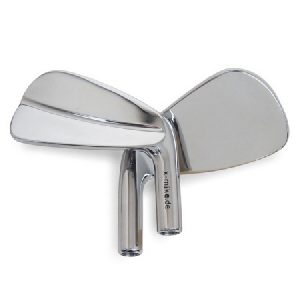 The classic muscelback blade was the first grooveless iron. It is available from iron 3 to PW – matching wedges see below made of a stainless steel with very soft impact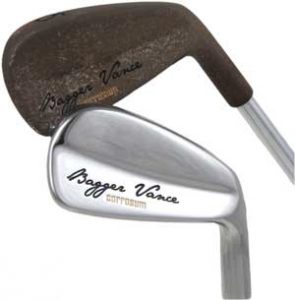 The corrosum blade is forged of a very soft carbon steel. Pure steel so it will get rusty.
Iron 3 to PW plus matching wedges (see below)
Cavity
The Bagger Vance Star series is one of its own. Power meets forgivness.
Very soft stainless steel, finish is shot peening – so the surface is very durable
Iron 5 to 10 (10 is an PW)
a very long iron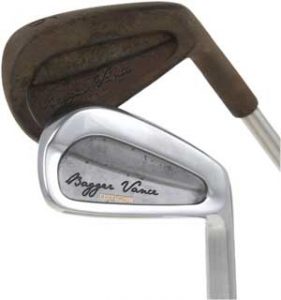 Corrosum cavity is again soft carbon steel, also 3 to PW, wedges see below
Deep Cavity
If forgiveness is your target than this iron is your choice. We know no other model that is easier to play. Ball flight is long and high with very short roll. Available from iron 5 to 9 (PW, GW, SW, LW and HL see below)
Wedge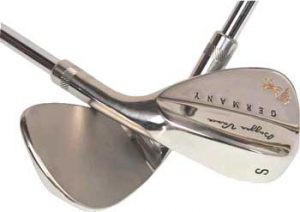 Our famous grooveless wedges. Super soft stainless steel, perfect match for the blade series, the deep cavities and many others. Available as Pitch, Gap, Sand, Lob and High Lob (64°). Low bounce.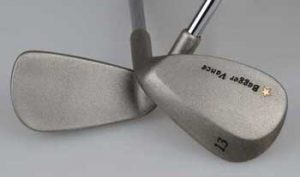 The Star wedges are really the stars if the ground is hard and the grass is short. Very sharp cut and ultra low bounce. Available as 11, 12 and 13 what is equal to 50°, 55° and 60°.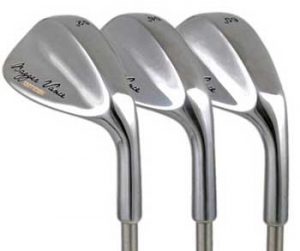 The corrosum wedges are rusty again. 52°, 56° and 60° for the classic player.
Special

A small set with single length shafts. It covers a standard iron set from 5 to PW with just 4 irons. Perfect match with the grooveless weges above. The only grooveless set that offers 100% MOI matching.

This could be everybodies darling: the Bagger Vance chipper. The shot saver from 0 to 100 yards. Please see the chipper in action

Woods are not your best friends? Than try this tee iron (playable also from the fairway). Very soft impact and straight ball flight.

The Bavarian edition: 4 irons made of carbon steel (will get rusty). Less is more.
Soft impact, straight feedback.

Grooveless ist cool – you do not need a mirror again.

For the freaks: mirror polished driver and fairway wood. Ask for details.